University of Cambridge Asia Theatre Tour presents...
University of Cambridge Asia Theatre Tour 2018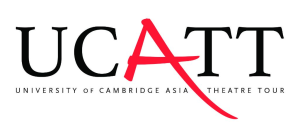 7:00pm, Tue 4th September 2018 - Sat 20th October 2018, at Venues in the U.K, China, Hong Kong, South Korea, Japan.
Summer Vacation to Michaelmas Week 2
The University of Cambridge Asia Theatre Tour, founded in 2017 is a student run theatre company that performs a British play at venues around the UK and East Asia: China, Hong Kong, South Korea, Japan. The tour takes place in September over a 3 week period with rehearsals/tour preparation in August. As well as performances, the tour has a big educational focus, engaging audiences directly with the play through workshops and classes. Workshops are not limited to the play and also encompass production, directing and other plays/writers (e.g Shakespeare).

It is a truly fantastic opportunity to put together a production that will be staged internationally whilst travelling around East Asia on a highly subsidised tour. We have the support of Emma Thompson as our patron and participants will be working with some awesome venues as well as people in each of these countries. We currently have the support of people from Cambridge Youth Summer Camp, the British Council and UNESCO to name a few organisations. It's an unmissable project if you're interested in theatre beyond Cambridge, education and culture/cultural diplomacy. As it is a relatively new tour, there is a lot of scope to bring in your own ideas that will influence the future of the tour. We also hope that it offers a chance for Cambridge students to mutually learn from the diversity of people encountered on tour.