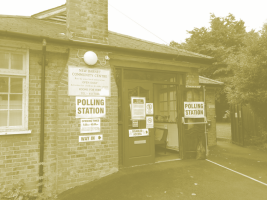 9:30pm, Tue 20th February 2018 - Sat 24th February 2018, at
Corpus Playroom
Lent Week 5
"Are we right? What is right? And can we have a vote on it?"

The channel island of Bullwick is in the middle of an election, but the papers are empty, the polls haven't moved, and the result seems certain. Until one of the candidates start telling people not to vote for him.

A bleak new comedy, Beige promises to be equal parts absurd, nihilistic and hilarious.