Downing Dramatic Society presents...
Late Night Billiards in Venice


By

Juliette Simon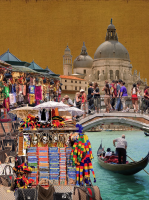 6:00pm, Wed 16th May 2018 at Heong Gallery
Easter Week 3
It's summer in Venice, and the Art Biennale is in full swing. At one of the exhibitions, two gallery attendants who start off as strangers soon become like family to one another. Through a series of conversations, they explore their fears about the future, their troubled pasts, and their new adventures in the City of Water.