Lover Boy


By

Elliott Wright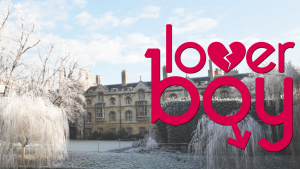 12:00pm, Sun 11th February 2018 - Fri 16th March 2018, at TBA
Lent Week 4 to Week 8
After a painful break up with his long-term girlfriend over the summer, Luke begins his second year at Cambridge with a new attitude and a very clear mission; to find 'the one'.

Luke's search for intimacy leads to a series of darkly comic misadventures, filled with misunderstandings, insecurities and disappointment, set upon the all too familiar backdrop of essay deadlines and terrible parties.

Lover Boy is a new five-part comedy webseries about love, friendship, sadness, desperation, loneliness, drunkenness, frustrated hopes and terrible behaviour. Production will take place during Lent Term 2018.