Brickhouse Theatre Company presents...
Jerusalem


By

Jez Butterworth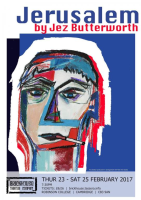 7:30pm, Thu 23rd February 2017 - Sat 25th February 2017, at
Robinson College Auditorium
Lent Week 5
Following rave reviews of its premiere in 2009, at the Royal Court Theatre, Jerusalem's run was extended and transferred to the Apollo. Jerusalem follows Johnny "Rooster" Byron on St. George's Day, who besides being a local waster and modern day Pied Piper, is also a wanted man. Council officials want to evict him, his son wants to be taken to the fair, and his rag-tag group of mates wants his ample supply of drugs and alcohol. It's a play about contemporary life in rural England, described by The Guardian as "unarguably one of the best dramas of the twenty-first century".