BATS presents...
Look Back in Anger


By

John Osborne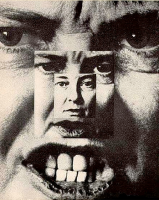 7:30pm, Sat 25th November 2017 - Mon 27th November 2017, at
Fitzpatrick Hall, Queens' College
Michaelmas Week 7 to Week 8
"Why don't we have a little game? Let's pretend that we're human beings, and that we're actually alive."

The play that best captures the blistering rage felt by an unfulfilled, neglected generation, Look Back in Anger introduced the world to the 'angry young man', an archetype as relevant today as it was when the play burst onto the stage in 1956.

At once a study of isolation and engulfing, poisonous relationships, the play follows Jimmy Porter as he struggles to connect with those around him and rise above the callous monotony of his fledgling marriage. The issues of today's youth, furiously voiced through those of the past.