Downing Dramatic Society presents...
Twelfth Night


By

William Shakespeare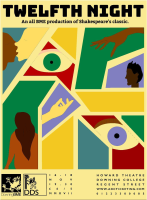 7:30pm, Thu 16th November 2017 - Sat 18th November 2017, at
Howard Theatre, Downing College
Michaelmas Week 6
*All BME production*

A gender-bent twist on one of Shakespeare's best-loved comedies - if you didn't think Twelfth Night was confusing enough already! Violo and his twin sister Sebastia are victims of a shipwreck. When Violo washes up on a strange land, alone and desperate, he realises the best way to get work with the Duchess Orsina is to dress as a woman, Cesaria. Orsina, who is madly in love with the Countess Olivia, sends Violo/Cesaria to deliver her love messages to Olivia. Olivia ends up falling for Violo/Cesaria instead, while Violo begins to realise his own budding feelings for Orsina. Further chaos and confusion ensue as Olivia's household staff and relatives hatch a plot to humiliate her stuffy housekeeper, and events come to a head when Sebastia arrives on the island and is mistaken for Cesaria!

Join us for a fun and modern take on Shakespeare's classic!