Downing Dramatic Society presents...
The History of American Pornography


By

Hilary Bettis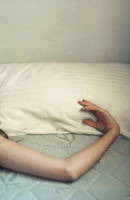 7:30pm, Tue 1st May 2018 - Sat 5th May 2018, at TBA
Easter Week 1
"Deep Throat IS the future of freedom of speech."

Star Papazian is having her 40th birthday, finally ready to lose her virginity. However, before she can get down to business she must deal with the past. Moving through her life from late sixties to present day Star recounts the rise and fall of her parents' porn emporium, Dolls and Stripes. More than just a business, the porn industry is both a family and a cause to the Papazians. Through her growing pains, Star bears witness to how the market takes its toll as what had started from free-love-free-body struggles against the tide. Definitions of private and public, personal and published blur.

Combining documentary and fiction, The History of American Pornography shows how people and their bodies are consumed. No one remains unchanged.