Brickhouse Thatre Company in association with the Cambridge Italian Society presents...
Accidental Death of an Anarchist


By

Dario Fo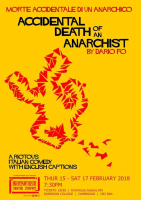 7:30pm, Thu 15th February 2018 - Sat 17th February 2018, at
Robinson College Auditorium
Lent Week 4
"But I'm mad, Inspector: certified mad! I'm a sort of amateur performance artist – my fellow performers need to be people who don't realise that they're in my plays."

The city is in uproar following news of the mysterious death of an anarchist who fell from a window during a police interview – though the word on the street is that he was pushed…

The police force is in panic, the population on the verge of a riot – and who is the mysterious maniac recently arrived at the station? Part buffoon, part angel of justice, he embroils the police in a series of games, ranging from the ridiculously farcical to the deadly serious.

Come and see the fifth annual Italian-language play by the Cambridge Italian Society, a bold production that integrates the Italian and English languages to bring to life Dario Fo's most daring, explosive and darkly comic masterpiece.