BATS presents...
Sofa on the Mile


By

Charlotte Cromie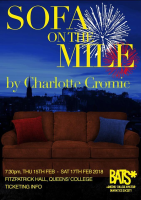 7:30pm, Thu 15th February 2018 - Sat 17th February 2018, at
Fitzpatrick Hall, Queens' College
Lent Week 4
'I was happy, very happy. But I needed to come down to earth. The Fringe is over.'

Three actors, a director and a producer emerge from the last night of their show at the Edinburgh Fringe, worn out by their performance and each other. Now they only need to transport their one piece of set, a sofa, from the pavement on the Royal Mile back to their accommodation. But hiring a van on the final evening of the Fringe proves no easy matter, and so, to avoid prosecution for 'littering on a major scale', the group must stay on the street with each other, the experiences of the past month, and the sofa they never want to see again.

Sofa on the Mile is a sharp new tragicomedy about youth, hurt and endings, about the things that are gone by morning, and the things that refuse to be left behind.