The Marlowe Society presents...
Scene


By

Lola Olufemi, Martha Krish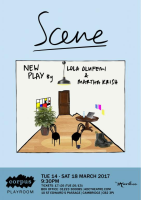 9:30pm, Tue 14th March 2017 - Sat 18th March 2017, at
Corpus Playroom
Lent Week 8
A play about an interracial (black/white) queer couple who are putting on a play about their relationship in order to provide social commentary on contemporary race and gender politics. They trust each other, having been together three years. But the process of devising the play reveals just how much of a defining role race plays in their relationship and individual experiences of the world, throwing up unresolved issues and - challenging them as writers and actors, as well as the audience to think critically about the intersection between race, gender and sexuality. A love story that asks questions and who and why we love and the things that separate us from one another.