Brickhouse Theatre Company presents...
Spring Awakening


By

Steven Sater and Duncan Sheik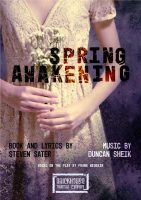 7:45pm, Tue 20th February 2018 - Sat 24th February 2018, at
Robinson College Auditorium
Lent Week 5
Steven Sater and Duncan Sheik's 'Spring Awakening', charts the coming of age of 11 late 19th century German teenagers, through the medium of folk-infused rock. It deals with a myriad of issues – sex, mental health, death, suicide, sexual and physical abuse and the struggles of being subjected to the parentocracy. This poignant musical, based on the 1891 play by Frank Wedekin, is dark, funny and heart-breaking and explores the blurred lines of adolescence and adulthood, of pain and pleasure, and the stark contrast of conservativeness and progressiveness in the context of 19th century Germany. It is a musical that manages to speak to people of all ages – especially young people - due to the universality and the pertinence of its themes, the complexity of its characters and the haunting beauty of its score.