Cambridge University Amateur Dramatic Club presents...
AIDA


By

Elton John & Tim Rice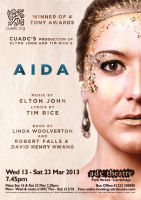 7:45pm, Wed 13th March 2013 - Sat 23rd March 2013, at
ADC Theatre
2:30pm, Sat 16th March 2013 at
ADC Theatre
2:30pm, Sat 23rd March 2013 at
ADC Theatre
Lent Week 8 to Week 9
When Egyptian captain Radames captures the Nubian princess Aida, little does he know that he will be changing both of their destinies. Set against a backdrop of warfare, ambition and treachery, they are soon forced to choose between love for their nations, and love for each other.

Inspired by Verdi's majestic opera, the timeless love story of Aida is retold by the creative team behind The Lion King. With music ranging from reggae and gospel to Elton John classics, including 'Written in the Stars', and with choreography inspired by everything from Latin to ballet, CUADC brings this Broadway hit to stage in a uniquely stylish and magical revival, taking the audience beyond the bounds of reality.

Winner of four Tony Awards, with a captivating story, electrifying score and beautiful design, this rarely performed musical is perfect for the whole family.