CAST and ETG presents...
The Cripple of Inishmaan


By

Martin McDonagh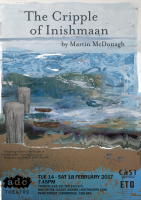 7:45pm, Tue 14th February 2017 - Sat 18th February 2017, at
ADC Theatre
Lent Week 4
"Ireland musn't be such a bad place, so, if the Yanks want to come here to do their filming."

It's 1934 in the small island community on Inishmaan, and the gossip is flying because Hollywood director Robert Flaherty is coming to neighboring Inishmore to film his big hit 'Man of Aran'- and there's a small chance that some of the locals might get cast. No one is more excited by this opportunity than 'Cripple' Billy, who longs to escape from his tedious daily life and the shadow of being defined by his disability.

Martin McDonagh's pitch black comedy examines an ordinary coming of age story in extraordinary circumstances. This script will simultaneously have you crying with laughter and holding your breath in apprehension. Don't miss this beautiful homage to Irish story-telling.